Covid-19: Tracking evolving consumer behaviour
Covid-19: Tracking evolving consumer behaviour
Understanding the impact of Covid-19
Helping brands navigate the current crisis, and make smarter data-led decisions
The Delineate platform is continually tracking the impact of Covid-19. It gives marketers real-time data, insight and intelligence on evolving consumer behaviour throughout the pandemic.
Tracking since March 2020, our platform has been giving clients deeper understanding of the issues consumers are facing around the virus, and how this crisis is affecting their behaviour.
Our latest white paper – United Divided – takes a comprehensive look at the most recent trends discovered through our impact tracking. Download it here
We started to get used to a few 'normal' routines over the summer. We we're feeling happier, safer and less anxious. But as autumn approaches our outlook is beginning to shift. While we're saying that we haven't seen a significant impact on our standard of living, divisions are starting to appear in the way we view the virus, and how we respond to it.
71%
of people think COVID will take another six months to be brough under control
We're also not as optimistic about COVID-19 being a short-lived problem. Trust in the Government and media has dropped, and we're feeling a little lost in a state of limbo.
We're now seeing the start of new groups of consumers appearing. Each group has their own needs and priorities. From those who put their family first and are seeking stricter measures, to those who are more inclined to act as if the virus isn't a threat to them at all.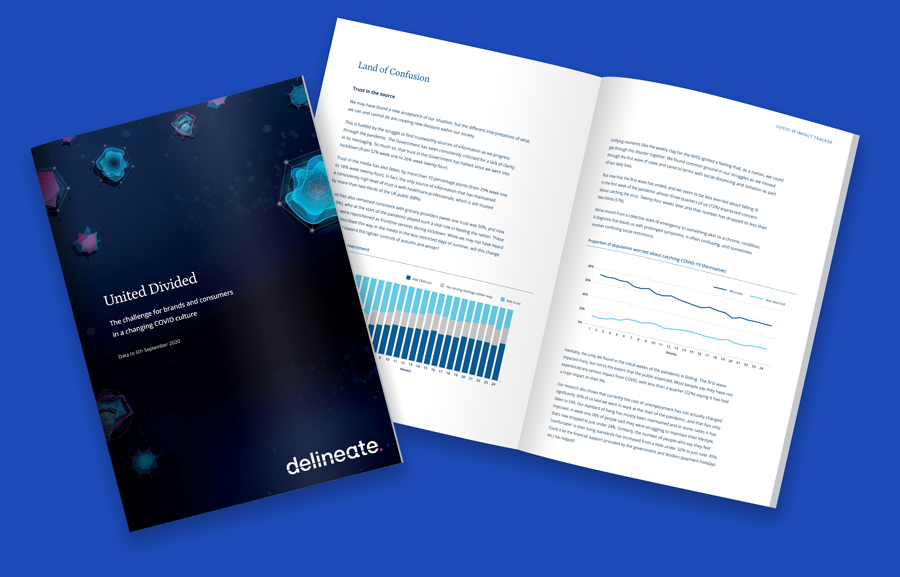 Helping brands navigate the current crisis, and make smarter data-led decisions.
Find out more
about how COVID is impacting Brands
All of this gives brands a conundrum. How can they sell to these new consumers? What will they be looking to buy and how will they be looking to buy it?
We've combined the Delineate platform Covid-19 impact tracking intelligence with our proprietary ad testing tool to help brands launch ads even when 'norms', aren't.
Static data points are based on 1,000 UK Adults aged 18+ taken from the inital COVID-19 Impact Tracker establishment survey on 25th March 2020. Trend data is 3-day rolling data based on 1,000 per week. All data is weighted.
The impact tracker helps:
Understand macro behavioural trends
Track changes in shopper behaviour by channel and category
Understanding shifting media consumption
Monitor what consumers do, and do not, want to hear from brands
Understand how can brands help consumers in new ways
Predict attitudinal shifts to be ready for the 'new normal'
Covid-19: Tracking evolving consumer behaviour
Our latest white paper moves the story on – from initial lockdown to today. It gives marketers and communicators intelligence on how best to engage with consumers right now. Download your free copy.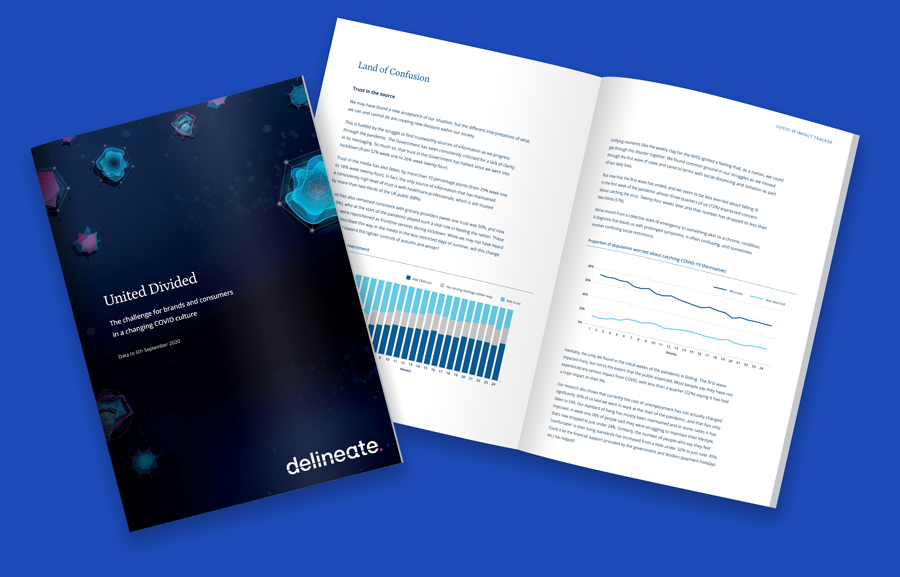 Giving brands the insight edge
The current market research model is outdated. It isn't meeting the needs of today's CMOs, who must continually react to rapidly-changing trends. There's a smarter way.
Delineate is a unique formula. A modern research company driven by the smartest people and powered by a smart technology platform.
This combination delivers real-time data, insight and intelligence to help marketers make smarter decisions. Fast.