Government Trust
In the last week, Trust in the Government is at its lowest since lockdown began. From the start of the crisis, we've been using our daily COVID-19 Impact Tracker to chart the UK's belief in the Government's actions and messaging in relation to the pandemic.
The UK went into lockdown with a great degree of uncertainty. But as we looked at our daily data and the #StayAtHomeNation acclimatised to quarantine, the nation quickly regained confidence. By mid-April, we reached a peak of trust in the Government to do the right thing, with a net trust value of +29%.
However, it's been a general downward trend since then. By the beginning of May net trust in the UK Government had fallen to +18%. And, as the Government faced new scepticism over the changes to restrictions on 11th May, one event appears to have accelerated the decline in the UK's trust levels.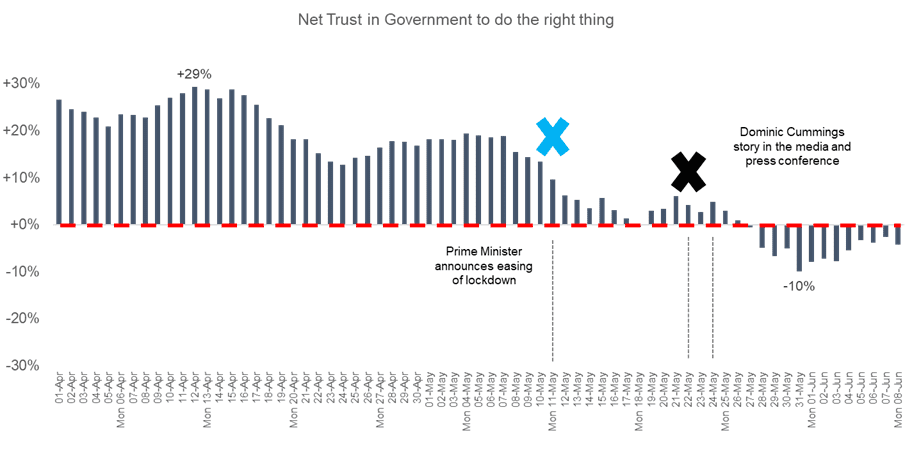 Trust falls
The recent row over Dominic Cummings alleged breach of lockdown regulations seems to have pushed net trust to its lowest point so far.  For four successive days last week, our Trust Index remained in the negative, hitting a new low of -10% in the 7 days to May 31st and this has yet to recover to a net positive.
For the first time in this pandemic we appear to have reached a point where people feel they cannot trust in the actions of the Government. This isn't the same for the whole of the UK, but there has been a significant shift in perception in England and Wales.
During the seven days before the incident became public knowledge, 38% of people in England and 46% of people in Wales said they didn't trust the Government. In the seven days after, 40% of people in England and 48% of people in Wales said they didn't trust the Government.
Is Trust the issue?
In the UK, 91% of people still believe that staying at home and avoiding social contact is either important or essential. This has been unchanged throughout quarantine. But when we consider the recent relaxation of the regulations, and the furore surrounding Dominic Cummings, are our opinions regarding isolation changing?
We are now less inclined to see staying at home as crucial, but we still consider it important. At the beginning of April, 83% of the population felt it was essential to avoid busy places. As of May 30, this had fallen to 61% of the UK. This could be due to the relaxation of regulations on outdoor activities and returning to work, but such a dramatic change indicates we're much less concerned about spending time in public spaces.
Is this about trust or is this about a continued confusion over guidance, messaging and the behaviour of those in and around Government?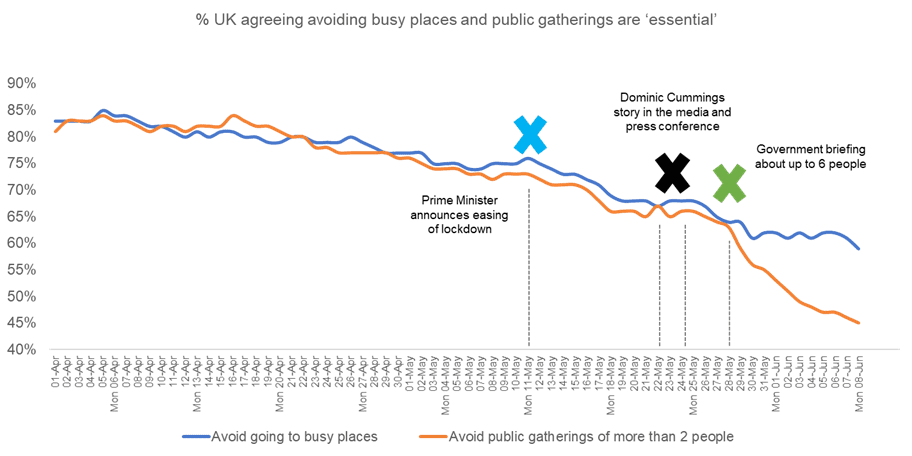 X marks the spot
The blue X on the graph above indicates the day the Prime Minister announced the easing of lockdown measures on 11th May. This announcement encouraged people to go back to their workplaces, unlimited exercise, to rest and sit outside, as well as the ability to drive to other destinations, in England at least.
The guidance didn't change on socialising in groups or the need for us to remain at home where possible. Within a few days of this announcement, we saw a continued fall in the number of people who believed it was essential to avoid busy places and gatherings of more than 2 people.  
Shortly afterwards, the Dominic Cummings news story came to light (black X), followed soon after with more positive news from the Government, talking about a future date where up to six people could meet (green X). At this point we see a continued decrease in the number of people agreeing we should avoid busy places but a more distinct drop in the number of people agreeing they should still avoid a gathering of more than two. Has reduced trust in Government impacted the public's opinion about gatherings?
We've seen pictures of our beaches and parks crammed with people unable to avoid social distancing guidelines, but still choosing to remain in public spaces rather than returning to the safety of their homes. It seems that there's some disconnect between what's being said, what's being understood and how some individuals are acting.
Points of views
As we continue to relax distancing measures it will be interesting to see if public perception continues to shift. Will trust be regained as we begin to experience the social benefits of seeing more of our family and friends? Will the Cummings story fade from our memories as the rate of infections and deaths continues to fall? Or has trust been too badly damaged to return to previous levels?
We'll continue to track how the UK feels about, and responds to, Government advice, as well as the actions of those in and around government impact our sense of trust and clarity to survive the ongoing crisis.
Download the COVID-19 Impact Tracker White Paper  – 
#StayAtHomeNation
Our White Paper #StayAtHomeNation,  reveals our findings from the first couple of weeks of lockdown. You can download a free copy of the white paper.
Our COVID-19 Impact Tracker which is part of our always-on suite of data products, is helping marketers and communicators access the latest information and take action.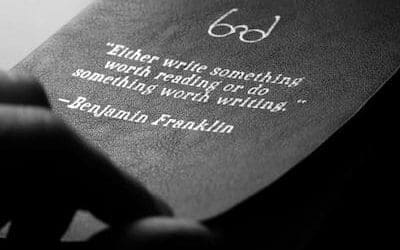 Storytelling in research: How turn insights into stories Creative and communications agencies know that storytelling is a vital element of a strong campaign. But when it comes to storytelling in research, the application of story can be easily overlooked. But, studies...